For any that wonder, the bike is a 1995 Yamaha Virago 1100. My dad got it last summer for himself, it only had 7000 miles on it. After 'passengerizing' with him on Patriot Guard missions, I got to wondering what it'd be like to ride one myself. My dad thought it a GREAT idea, he was secretly getting tired of toting my ass around (don't blame him at all) and it gave him an excuse to buy himself a freaking 2006 Yamaha 1100 VStar.
I started riding around in the pasture, that was a hell of a site. Then following my dad on back roads. Took my written test for my motorcycle endorsement two days after surgery then went back for the road test after medical clearance. Passed first time, thank God! And the rest is history as they say.
Now I know why dogs hang their heads out of the car window!!! LOL.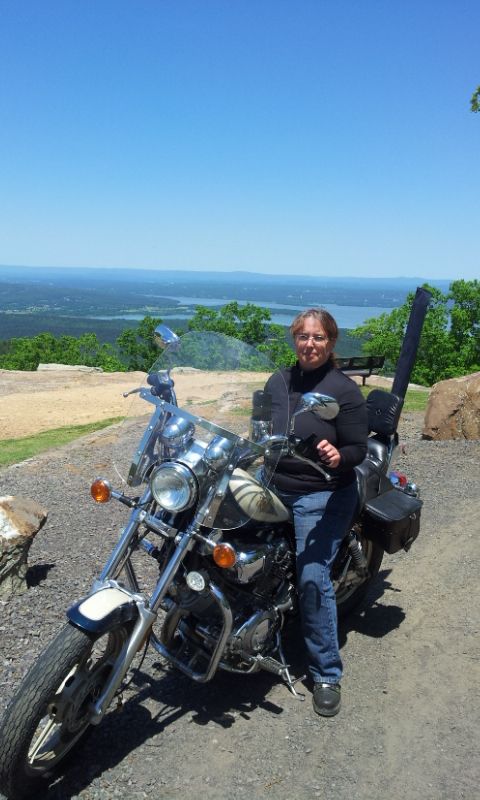 Beautiful day for a bike ride. Me and my dad rode to the top of Mt. Nebo, we're at Sunset Point here. It was a fun ride up, all the switchbacks! Awesome. And yes, I ride with a helmet, it's in my right hand, and I love my boots! They make me feel awesome! :)
Lots has happened, had a complete hystericalectomy (lol) in January, have never felt better. Me and my dad saw midnight showing of The HObbit in December FREAKIN AWESOME!!!! Saw George Strait in Little Rock, beyond freakin awesome! Told my previous employer to 'stick it', spent a month riding motorcycles with my dad in the Patriot Guard Rider, OH yes! Learned to ride motorcycle on my own, got license, got bike woo-hoo!!! Started new job last week, I really think work is over rated, just need to win disgustingly huge lottery to pay off parents' place, set them and me up for life then run a doggie rescue and do my Patriot Guard stuff. We can all dream eh??
Hondo had hurt his back a month ago, he's back to his normal, onery self! Awyn is still my precious baby who loves sitting on your lap! :)
She comes in and gets on the couch with her toy and promptly takes a nap. Then gets up to play and waller around on your lap. Good stuff that.
I love getting the up close pictures, that face of hers is just too sweet!!! I hope to not be such a stranger, but can't promise. *snirk*
Hmmm, September was last post....well I'm just a slacker.
So in December 2010 I found my baby girl. She was only 4 weeks old when I brought her home. She is the joy of my life and the sweetest baby I've ever had the pleasure of meeting.
Her big brother Hondo adores her...even though she could squish him now with just a sneeze. LOL!
I named her Awyn, like the LOTR character but not spelled the same. :)
Here she when I brought her home
Her and her Big Brother
At a year old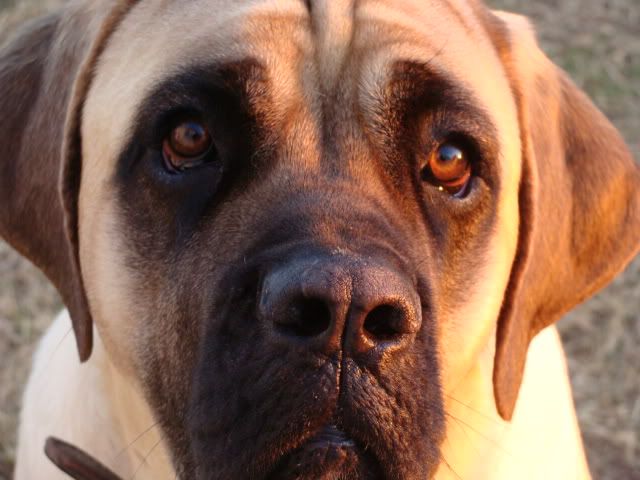 There will be more pics and stories to tell.
I had always admired mastiffs, particularly English Mastiffs. I have a friend I work with who has mastiffs she rescues from Great Plains Mastiff Rescue and I've picked her brain about them.
Current Mood:

cheerful
I went two days after our phone call and caught up on everything. We then went outside to meet some of her other horses. Seems there was this one lovely gelding, Sonny 5 yrs old, that they wanted to find a home for. They were fixing to move out of state and had buyers for the others, but for some reason not this beautiful, loving guy.
He looked familiar, the coloring beautiful. I'm busy petting him and getting a strange feeling when Sandy said gently, "This is Goldy's great great grandsom."
The tears began, then I broke into gutwrenching sobs at her next words..."He is yours"
She said she didn't know why no one wanted to buy him over the years, then realized, when Goldy died why she still had him. "I was holding him for you, Irish. He needs to go home with you now."
I don't know why or how, but if you look at the pictures of Goldy and Prince, Sonny could've been their foal. He is such a character, everyone who meets him loves him. He WANTS to hang out with you all the time. He'll act goofy like Prince then so dignified like Goldy...it's wonderfully strange.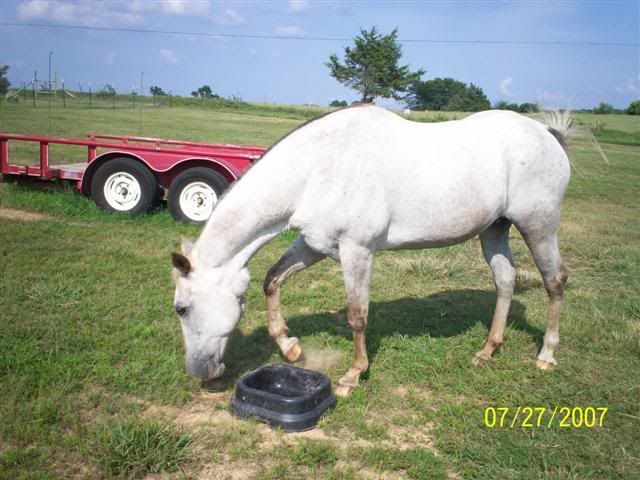 Several weeks after Goldy passed, my wonderful friend who I bought her from, contacted me on Facebook and asked me to contact her. She had heard about Goldy and she wanted me to come over.
After Buffy died, our older Pekingese Bo, began to mope so we found him a 'little brudder'
Hondo!
(
Read more...
Collapse
)
More happy things that I'd rather dwell...
Still at the same job I was at since 2008, still feel like I don't fit in and getting bleeding ulcers.
Buffy, Prince, and Goldy have passed away.
My mom retired from work leaving me to take care of both my parents whose health SUCKS!
Hence, falling into the great blackhole of despair and never wanting to come out.
On the bright side...
(
Read more...
Collapse
)
Let's recap, shall we? (not really but what the hey)
Current Location:

home

Current Mood:

calm

I've missed everyone so much. I've checked in from time to time but wasn't ready to come out of hiding.
The last 5 years have been a freakin' mess, then two years ago, almost, it went to hell.
Well, as Ms. Clarkson says..."What doesn't kill you makes you stronger..."
Two years? It's almost been two years since my last post?? OMG...
Last Friday, I woke up to find my hell on earth. My beloved mare, Goldy, had a stroke. My dad saw her collapse as she staggered out of the barn and even seeing her lying there, I could not believe it. She was still hanging in there, but she was confused. Why can't I get up? You could see it in her eyes. She couldn't even hold her head up much less get to her feet. I knew...this was it. She just turned 31 on May the 7th, was still vibrant and full of spirit.
But this...so sudden. No wondering if she'd pull through...It was time to say goodbye.
When the vet finally arrived, I was so grateful. It was soooo hot! I couldn't stand Goldy being in the sun. My mom got her large patio umbrella and I held it for my girl so she'd have some shade, dribbled some water in her mouth so she wouldn't be so thirsty. I couldn't believe 18 years was coming to an end so rapidly!! Goldy slipped away, peacefully...no more arthritic knees and ankles, no more 100+ summer days...just neverending sweet, cool water and tender, lucious pastures to lounge about in.
We buried her, oh so gently laying her to rest. When it was done, I swore my heart stopped beating. It feels like a 45 lb sledge hammer has blasted my chest, it hurts to breathe...it just hurts.
Prince finally has his Goldy back with him.
This picture was taken on her 31st birthday. I so miss her.
My Goldy 5/7/1979 - 7/30/2010
I want to thank everyone for the warm wishes and condolences when Prince passed away. I've wanted to reply back to them all but it seems I can't get ahead of life. Just when it calms down and I think I have time to breathe...the bottom falls out and the earth just freakin' stops.
April 13, my sister HobbitPony and my nephew said farewell to Prince. He was 26 but had been fighting a tumor that we didn't know about until it was too late. The past few years' winters had been hard, he wasn't bouncing back like he normally did when spring came. He never went off his feed, was healthy in every other way, loved to go camping with Wyatt.
But on April 12, Wyatt had stayed the weekend with me and my sister called to say she thought Prince was colicking. The vet was called, no colic. His gut and intestines weren't impacted, he still pottied regulary..the blood work told something different. I won't go into tech-speak, but it was not good.
Surgery was not an option at Prince's age as the anesthesia would most likely kill him. They gave him some painkillers to make him comfy and Prince seemed to get a bit better. Sunday night and Monday he was up, drinking, hanging out & grazing with the other horses but HobbitPony said he looked tired. The spark was no longer in his eyes. She was afraid she wouldn't be able to make the call to euthanize her first love.
Tuesday morning, she let me know Prince was about the same, he nickered at her as she left for work, but he looked so exhausted she said.
I got the phone call at 5:15 while I was finishing up at work..."Sissy...he's gone."
Those words ring so cold!
She got home from work, and she, her husband, and Wyatt were out in the pasture petting and gently brushing Prince for a good hour. He gently bumped his forehead into my sister's chest then walked away a few feet, lay down, sighed...and that was it.
Prince was not just a horse, he was a character! Oh my, the stories I could tell! *weak grin*
That may come later..for now the pain is unreal!! I know now why people kill themselves trying to 'drink away the pain'. You find out you can't but you keep trying. If it hurts this bad saying goodbye to Prince...it's going to kill me when Goldy leaves me. (But she's doing fine and that'll be another update)
I think what hurts the most is seeing my baby sister in pain and not being able to take it away.
I know my flist is filled with animal lovers and you all would understand.
Thank you for listening.
Current Mood:

numb