When the tornado warnings went out on Sunday afternoon, the only thing on my mind was everyone staying safe. While my folks grabbed the Pekingese, I snapped the leash on Awyn and we headed for the storm cellar. As I flung open the door to it, I had completely forgotten that Awyn had never been in there. To her it was a big, freakin, scary hole in the ground! I took a couple steps down while encouraging her, praying she wouldn't panic. Initially, she was like "Oh hell NO!" until she realized I was going then she decided, "Well if you're going then I'm going too!!" She followed me down the stairs and into the cellar. We all got in, closed the door and waited. Awyn was leaning into me and I leaned into her. The wind started to roar a little and I looked down to see if she was okay and when she looked up at me...that beautiful face and those soulful eyes; I could've faced anything then! Sounds silly, but she gives me courage.
The picture above was taken on Monday, the day after. You can't tell but she's sitting on my foot. :)
Hug your loved ones, whether four legged or not, a little tighter.
Thanks for indulging.
erynlinia
at
HAPPY 3RD BIRTHDAY, AWYN!!!!!
Originally posted by
Change is in the wind my friends. *grin*
Anyhooooooo...I wanted to post a couple of piccies of my baby girl. Awyn will be 3 next month. Seems like just yesterday she was a six pound 4 week old, now...what a beautiful baby!
Here she is lounging and napping on her favorite spot; Awyn's Couch!!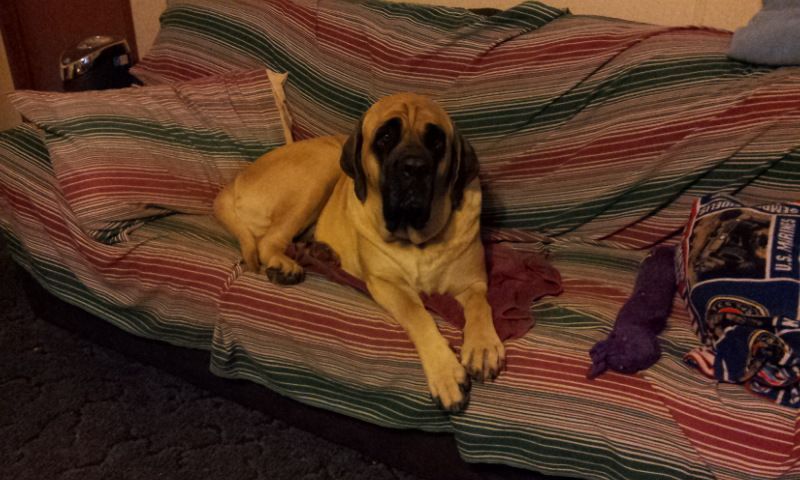 More to come, my friends!!
I know, I know. How come you don't call? You don't write....
Current Mood:

cheerful

Current Music:

30 STM - City of Angels


*hugs*
HAPPY BIRTHDAY, AGIE!!!
For any that wonder, the bike is a 1995 Yamaha Virago 1100. My dad got it last summer for himself, it only had 7000 miles on it. After 'passengerizing' with him on Patriot Guard missions, I got to wondering what it'd be like to ride one myself. My dad thought it a GREAT idea, he was secretly getting tired of toting my ass around (don't blame him at all) and it gave him an excuse to buy himself a freaking 2006 Yamaha 1100 VStar.
I started riding around in the pasture, that was a hell of a site. Then following my dad on back roads. Took my written test for my motorcycle endorsement two days after surgery then went back for the road test after medical clearance. Passed first time, thank God! And the rest is history as they say.
Now I know why dogs hang their heads out of the car window!!! LOL.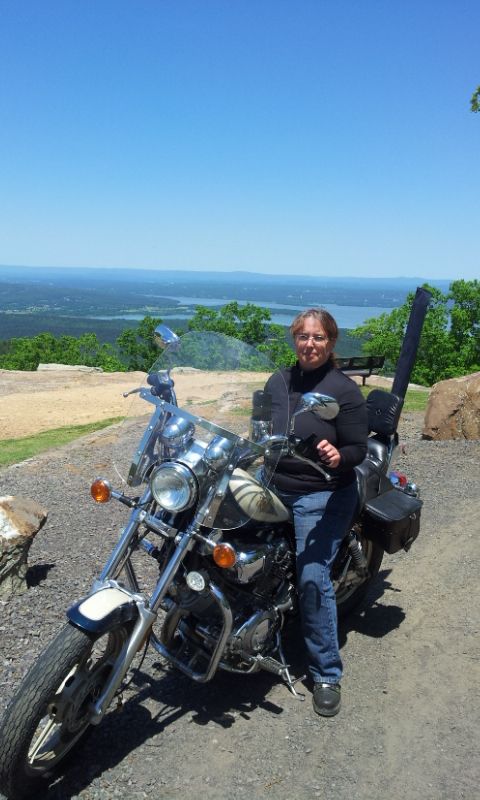 Beautiful day for a bike ride. Me and my dad rode to the top of Mt. Nebo, we're at Sunset Point here. It was a fun ride up, all the switchbacks! Awesome. And yes, I ride with a helmet, it's in my right hand, and I love my boots! They make me feel awesome! :)